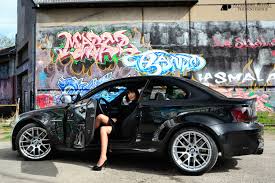 Itching to upgrade your ride? Here are the five essential mods you should consider for your first car to get it looking and performing at its peak.
1. Tyres
The fastest way to transform the performance—and look—of your car is by upgrading your tyres. Tyres give impact to a car, changing the feel of the drive and the way it grips the road. Investing in a good set of tyres will improve the way your car accelerates, brakes and corners. It should be the first mod you consider when wanting to update the performance of your vehicle.
2. Seats
You're going to spend a lot of time in this beauty of yours, so you want to make sure you're comfortable. It's easy to underestimate the strain keeping yourself in the seat can put on your body—but you'll feel the difference once you've upgraded to a good set of performance bucket seats. They're designed to grip you tighter, increasing your race performance by psychologically reducing your need to brace yourself when you're cornering hard. A small price to pay for feeling more in control behind the wheel!
3. Brakes
A cost-effective way to improve your brake performance—allowing you to come to a complete stop faster—is by modifying the brake pads and fluid. This can be a good place to begin if you don't have the cash to replace the entire system. Look for a performance pad with high range of operating temperatures. Essentially, you don't want to replace your pads with race pads only to find they don't function well on the street.
You should replace your brake fluid annually and if you are considering racing your vehicle, it might be worth considering an upgrade to a high-performance brake fluid. Regular brake fluid should function without fail on the street as they are generally made with a high boiling point. However, for relatively little cost, you can upgrade to an even higher boil point brake fluid and give yourself the peace of mind that your brakes won't ever give out on you.
4. Exhaust
This one is a bit of a guilty pleasure as modifying the exhaust of your car does little to improve its performance…but it sounds cool. It's a fairly cheap mod to do and fairly flexible—you can choose to modify your back box only or upgrade the entire system (changing the sound and the price). A good looking full exhaust system is one of the key things car enthusiasts look for under the bonnet in a car meet.
5. Window tint
Tinting your windows is going to increase your resale value. Not only is it a desirable mod for racers and non-racers alike, it will prevent damage to your car's interior by harmful UV rays. You'll be protected too—decreasing your risk of skin damage and reducing glare—making the drive much more enjoyable. Window tinting is also a known theft-deterrent. If thieves can't see your upgraded stereo, they are less likely to target your car.